Circle Gets the Square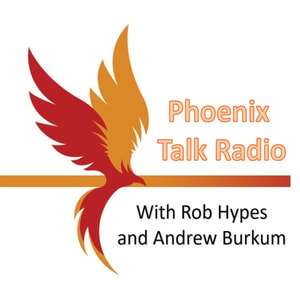 With Very Special Guest, Jim Kocher
Episode Notes
This week, Andrew gets the chance to sit down with local celebrity, Jim Kocher to talk about the exciting new game show Central Valley Squares, produced by the Phoenix Creative Collective in conjunction with the MAC in Merced, CA.
Listen to all the shenanigans going on behind the scenes and get ready to play that game of X's and O's coming soon!
Have you supported the Phoenix Podcast yet with a monthly pledge at the Phoenix Creative Collective's Patreon? You can help keep our shows on the air and get some great bonuses as well courtesy your favorite neighborhood Arts Collective!
Phoenix Talk Radio is a Member of the Phoenix Podcast Network
Send us email at [email protected] or call us at 209-643-5880!
Music is by Steven M Burkum of Rialthos Music. You can license or purchase his tracks on his BandCamp Page
Find out more on the Phoenix Talk Radio website.
This podcast is powered by Pinecast.