S2E1 - Look Who's Back!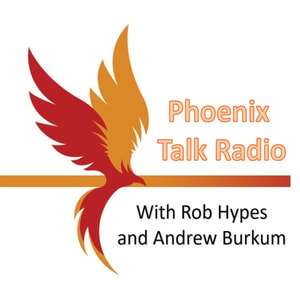 Episode Notes
PTP's Radio Cavalcade: Valentine's Day Edition! PTP's Radio Cavalcade is back with not one, but TWO shows about love's many twists and turns in this Valentine's Day themed performance! Join us on Saturday, February 8th at 7:30pm as our Radio Cavalcade Players bring to life THE PHILADELPHIA STORY and a Valentine's Day episode of THE THIN MAN .
Haven't been to a Radio Cavalcade show yet? You're in for a treat as you become the live studio audience, back in time during the Golden Age of Radio. Live foley artists and live musical stylings, actors taking on multiple roles during a broadcast, and more. Just $5 gets you in the door of this audience favorite. Tickets at prospect.vbotickets.com or at the door
Lizzie: A New Musical Hosted by Phoenix Creative Collective and Merced Multicultural Arts Center - the MAC
On a sweltering summer morning in 1892, in a small New England city, a prominent businessman and his wife were brutally axed to death in their home. Their daughter Lizzie Borden was the prime suspect. Lizzie's trial was a coast-to-coast media sensation, and her story has become an American legend.
LIZZIE is four women fronting a six-piece rock band. LIZZIE is rage, sex, betrayal, and bloody murder. LIZZIE is American mythology set to a blistering rock score. LIZZIE is a new American musical with a sound owing less to Sondheim and Andrew Lloyd Webber than to Bikini Kill, the Runaways, and Heart. February 13-29 at the MAC Tickets online at phoenixtherise.com
Roald Dahl's Matilda the Musical Hosted by Playhouse Merced Sponsored by the Donald and Betty Stewart Family Rated 5 for 5 years and up
Book by Dennis Kelly; Music and lyrics by Tim Minchin; Based on the book, Matilda by Roald Dahl
Matilda is the story of an extraordinary little girl with supernatural powers. The daughter of abusive parents, Matilda finds refuge in library books and in creating her own stories. Things are no better at school, where Matilda also must face a tyrannical and cruel headmistress, Miss Trunchbull. Not everyone Matilda encounters is so evil. Her teacher, Miss Honey, is kind but doesn't have the strength to challenge authority. Matilda knows she has to stand up to the bullies, and in doing so, discovers her own remarkable powers. Matilda's bravery teaches Miss Honey and her classmates an important lesson -- that even though life can be hard, "nobody but me is gonna change my story" so "sometimes you have to be a little bit naughty." Feb 14 - Mar 8 Tickets at playhousemerced.com
King Henry V by william Shakespeare at Center Stage Conservatory's Lower Level Studio OPENING FEBRUARY 21st
Shakespeare's meta-theatrical exploration about invasion, ego, and leadership brings to the stage some of his most compelling language and memorable characters.
Prince Hal has assumed the throne and with it a sense of patriotic zeal. He looks to claim the French crown. When his ego is hurt by a gift from the French Prince, King Henry will assert his might in a series of spectacular battles across the country with a violent and relentless aggression joined by his "band of brothers".
Our production features an all-womxn cast with live action sword fights! Huzzah! Performances February 21 - March 1 7:30pm Thursday-Saturday 2:00pm Sunday
Tickets $15 and available at: bardsbroadsbrigade.com or at the door by cash Or Venmo
Puffs Workshop 44 and Paraiso Brewery For seven years a certain boy wizard went to a certain Wizard School and conquered evil. This, however, is not his story. This is the story of the Puffs... who just happened to be there too. A tale for anyone who has never been destined to save the world.
The New York Times proclaims PUFFS, "A FAST-PACED ROMP through the 'Seven Increasingly Eventful Years at a Certain School of Magic and Magic.' For POTTERphiliacs who grew up alongside Potter and are eager to revisit that world, 'PUFFS' exudes a jovial, winking fondness for all things Harry!"
This clever and inventive play "never goes more than a minute without a laugh" (Nerdist) giving you a new look at a familiar adventure from the perspective of three potential heroes just trying to make it through a magic school that proves to be very dangerous for children. Alongside them are the Puffs, a group of well-meaning, loyal outsiders with a thing for badgers "who are so lovable and relatable, you'll leave the theater wishing they were in the stories all along" (Hollywood Life). Their "hilariously heartfelt!" (Metro) and epic journey takes the classic story to new places and reimagines what a boy wizard hero can be. Rated PG-13 February 29th and March 7th
Robert Jerome, a friend of mine and of the Phoenix said this one was almost sold completely out when I spoke with him a week ago, so if you are interested and you should be contact them today to see if you can still get in!!
Butterweizen—beer brewed specially for this event!
Tickets at workshop44.org
The Effect Hosted by Prospect Theater Project By Lucy Prebble March 6-22, 2020
THE EFFECT is a clinical romance. This funny, moving and perhaps surprisingly human play explores questions of sanity, neurology and the limits of medicine, alongside ideas of fate, loyalty and the inevitability of physical attraction. "Rich and rewarding. As intelligent as it is deeply human."
OPENING WEEKEND SALE! Take advantage of our online-only Buy-One-Get-One-Free sale! Select your tickets for any one of our opening weekend performances, enter the discount code "PTPBOGO" at checkout, and save! More details and ticket information at prospecttheaterproject.org
The Sound of Music Hosted by Merced College Fine & Performing Artsand Merced College Theater We hope you and your family will come out to see our Spring Production of The Sound of Music! Music by Richard Rodgers, Lyrics by Oscar Hammerstein II. Book by Howard Lindsay and Russel Crouse
Directed by Lauren McCue-Bryx Musical Direction by Alexander Simon
Presented by Merced College Performing Arts at the Merced College Theater $12 in Advance, $15 at the Door Get your tickets now at mccd.tix.com
Balloonacy Hosted by Phoenix Creative Collective and Merced Multicultural Arts Center - the MAC In an engaging example of truly accessible theatre for young audiences, Balloonacy is a story of unlikely friendship. Set in the apartment of a lonely adult, the introduction of a balloon with personality proves to be too much for the grumpy, stuck-in-the-mud main character who tries to make the balloon go away. When it doesn't work and the balloon proves resilient, our hero slowly softens to the idea of having a friend, and suddenly we see the grumpiness fade away, and the power of simple non-judgmental presence and support to sweep to sweep away even the darkest of clouds on the rainiest of days. Uniquely suited for students in special education programs and non-English speakers, Balloonacy is highly engaging and entirely wordless. March 21-22 at the MAC
*SPONSORED BY CENTRAL VALLEY YOUTH LEGAL SERVICES
Tickets online at phoenixtherise.com
SHREK The Musical Hosted by Modesto Junior College Arts The Modesto Junior College Theater, Music and Dance Departments present Shrek the Musical March 27 at 7 p.m., March 28 at 2pm, April 3 and 4 at 7pm and April 5 at 2 p.m. in the Auditorium of the Performing and Media Arts Center on East Campus, 435 College Avenue, Modesto.
Based on the Oscar-winning DreamWorks Animation film, Shrek The Musical is a Tony Award-winning fairy tale adventure, featuring all new songs from Jeanine Tesori (Thoroughly Modern Millie; Caroline, or Change) and a sidesplitting book by David Lindsay-Abaire. Shrek brings all the beloved characters you know from the film to life on stage and proves there's more to the story than meets the ears.
"Once upon a time, there was a little ogre named Shrek...." And thus begins the tale of an unlikely hero who finds himself on a life-changing journey alongside a wisecracking Donkey and a feisty princess who resists her rescue. Throw in a short-tempered bad guy, a cookie with an attitude and over a dozen other fairy tale misfits, and you've got the kind of mess that calls for a real hero. Luckily, there's one on hand... and his name is Shrek.
Shrek presents a treasure trove of creative opportunities, including costumes, sets, puppets (there is a fire-breathing dragon after all) and more! Irreverently fun for the whole family, Shrek proves that beauty is truly in the eye of the ogre.
Tickets are $12 for students and seniors and $15 general admission and are available in advance through the MJC Box Office, Tuesday through Friday, 12-5 p.m., (209) 575-6776, online at www.mjc.tix.com or at the door 90 minutes prior to each performance.
Audition notices
Workshop 44 – Mamma Mia Now accepting video submissions. Send a song to casting.w[email protected]. Call backs/in person will be in early March
PLAYHOUSE MERCED Is seeking an actor for the leading role of Jimmy Raye for BRIGHT STAR the musical. Please prepare the following and contact [email protected] to schedule an audition or for more information!
Have you supported the Phoenix Podcast Network yet with a monthly pledge at the Phoenix Creative Collective's Patreon? You can help keep our shows on the air and get some great bonuses as well courtesy your favorite neighborhood Arts Collective!
Phoenix Talk Radio is a Member of the Phoenix Podcast Network
Send us email at [email protected] or call us at 209-643-5880!
Music is by Steven M Burkum of Rialthos Music. You can license or purchase his tracks on his BandCamp Page
Find out more at https://phoenix-talk-radio.pinecast.co
This podcast is powered by Pinecast.